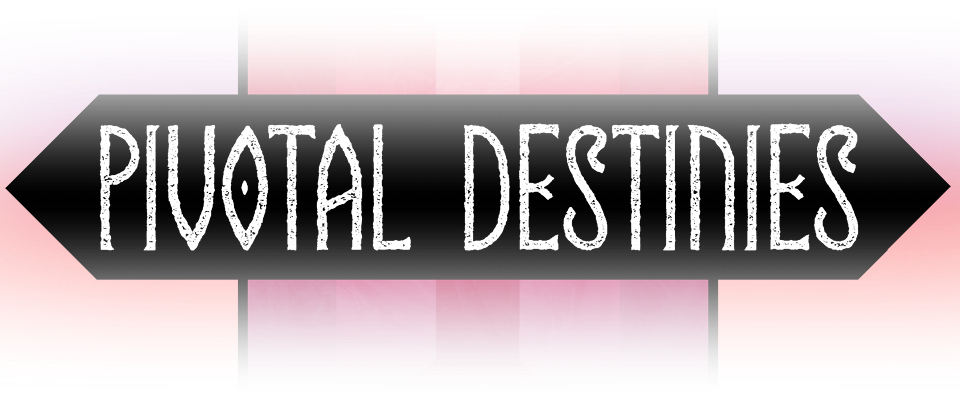 Pivotal Destinies
Pivotal Destinies is a fantasy-fiction based table-top roleplaying game for a GM and any number of players.
To play Pivotal Destinies, you will need two to three d12, one or two d6 and one or two d4.
The world of Pivotal Destinies is a fantasy fiction inspired universe, in which magical and mystical abilities and occurrences are a fact of life, monsters do exist (although the game is written with the assumption that many of them are human), and there is a living to be made through adventuring. The core philosophy of this universe is that all things are balanced between two extremes, and this shapes the way that players roll for their actions. Attributes are created in five pairs, and a high or low number simply indicates which of that pair a character is most attuned to. Other factors can influence the ability in one or other of the pair, including magic, equipment and costumes. Reaching either extreme is a point of disaster and to be avoided, so use those modifiers wisely.
The game idea was inspired by personality tests that have different scales of attributes (5 Factor Model, MBTI, etc), and the yin-yang symbol in which each side contains a seed of the other.

Purchase
In order to download this TTRPG you must purchase it at or above the minimum price of $16 USD. You will get access to the following files:
PivotalDestiniesCharacterSheet Colour Print.pdf
3 MB
PivotalDestiniesCharacterSheet Colour Fillable.pdf
3 MB
PivotalDestiniesCharacterSheet B&W Print.pdf
3 MB
PivotalDestiniesCharacterSheet B&W Fillable.pdf
3 MB
Pivotal Destinies full colour.pdf
57 MB
Pivotal Destinies b&w.pdf
25 MB
Pivotal Destinies text only.pdf
187 kB